Browse our collection of rainwater filters. Here at Rainwater Management Systems, we have a variety of different rainwater storage tank filters inlets to handle different storage tank applications. Our storage tank filtration systems focus on removing particulate matter and the oxygenation of rainwater, and thus keep your rainwater collection free of debris, clean, and safe for use.
limit: 10
for_limit: 10
products: LazyProductDropCollection
products_length 26
products.size: 26
UV disinfection filters are the #1 choice for Rainwater Harvesting Tanks because rainwater UV filters are simple to set up and use as a rapid disinfectant. You won't have to ask yourself how to disinfect rainwater once you install the rainwater UV filter. Is rainwater safe to drink? Using our UV disinfection filters can ensure that your rainwater is clean and ready for drinking. Buy your Rainwater UV Filter Today!
limit: 10
for_limit: 10
products: LazyProductDropCollection
products_length 25
products.size: 25
Rainwater Management Solutions has adoptedWISY's 4 step system. The 4-Step System will minimize rainwater harvesting system maintenance and create a higher water quality for your rainwater harvesting system. By using pre-tank filtration, the 4-Step System will reduce the amount of particulate that enters the tank and, as a result, will reduce the amount of particulate that is then pumped out of the tank. By reducing particulates in the rainwater harvesting system, you can prolong the life of your pumping and filtration equipment and eliminate the need to clean debris from your tank.
Need Assistance Sizing Your Rainwater Storage Tank?
RMS has tank sizing software to assist you in sizing your rainwater storage tank. If you would like assistance sizing your rainwater storage tank, please fill out our tank sizing request form. For more information on the aboveground storage tanks, contact RMS at (540) 375-6750.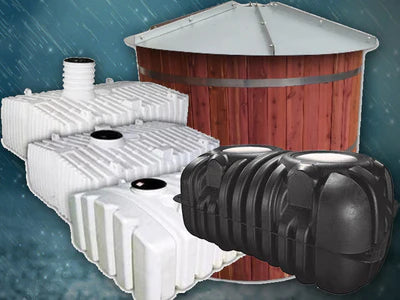 Get the Right Tank for Your Rainwater Storage Tank Needs
A properly-sized tank is crucial to the efficiency and function of a rainwater harvesting system. Rainwater Management Solutions has developed a proprietary tank sizing software to accurately determine the size of the tank to best suit your rainwater harvesting needs and goals.
Glacier UV LED Water Bottle
$70.00
The Glacier UV LED by Luminor is a convenient and environmentally friendly way to ensure your water is safe on-the-go without the use of harmful chemicals.  The self-cleaning water bottle is 99.9% effective in controlling the bacteria and viruses in water.  
- Constructed of 304 stainless steel double wall insulation for hot or cold beverages
- On-the-spot disinfection with manual activation
- Cleaning cycle mode to keep your bottle smelling fresh and clean
- Reusable and Eco-friendly alternative to plastic water bottles
- USB-C charging with long lasting battery
- UV light renders microorganisms "inactive" thus prohibiting reproduction
Homemakers and project enthusiasts are always looking for new DIY projects for their home. Rainwater Management Solutions has developed easy-install technology packages for DIY Rainwater Harvesting. Whether you're building a tiny-home, living off the grid, or in the middle of Chicage we've got DIY Rainwater Harvesting Systems for your projects needs!
limit: 15
for_limit: 15
products: LazyProductDropCollection
products_length 6
products.size: 6